Shingle Creek Regional Park
Shingle Creek is a Regional Park in Osceola County and consists of a series of separate parcels of land, some of which are interconnected by footpaths. The eventual aim is to create one contiguous corridor of public space, some 32 miles in length from Kissimmee all the way north to the Wekiva Springs State Park in Seminole County.
If you enjoy historic buildings, cycling, bird watching, fishing, paddling, picnicking or hiking then there is something for you to do at Shingle Creek Regional Park and most of it is free.
It is right on our doorstep and the nearest part of the park is only a few minutes drive from our villa, on South Bass Road.

Click the button to display a map showing the location of our villa on Eagle Pointe and the various parts of the Shingle Creek Regional Park. Close the map by clicking on the X in the top right.
All the walking trails are either concrete or "soil cement" to make them accessible all year round. The parks and trails are generally open from sunrise to sunset.
Shingle Creek itself is a river at the northernmost headwaters of the Everglades and it flows southwards for hundreds of miles via Lake Tohopekaliga (Toho), through the Kissimmee Chain of Lakes into the Kissimmee River before ultimately reaching Lake Okeechobee (Florida's largest lake), then on to the Everglades and the Gulf of Mexico.
Below you will find descriptions of each part of Shingle Creek starting in the south and heading north.
All the locations offer free parking.
Marsh Landing is the southernmost parcel of land of the Shingle Creek Regional Park. For a time it was closed to boating whilst bridge construction work on Hoagland Boulevard (where it crosses Shingle Creek) was completed. It re-opened in February 2021.
It offers a public boat ramp where you can also hire canoes and kayaks as well as a pavilion, picnic tables, restrooms and a concession stand.
It provides direct access to both Paradise Island and Makinson Island Park on Lake Tohopekaliga heading southwards and is about 4 miles downriver from Steffee Landing.
Address: 3465 Marsh Road, Kissimmee, FL34746
The Bass Road location has a small free car park. Here you will find a kids adventure playground, covered pavilion, picnic tables and grills as well as a walking/running trail with exercise equipment.
It is also home to the Gopher tortoise which burrows in the soft sandy soil and if you are lucky you might spot one in their preserve.
Address: 925 South Bass Road, Kissimmee, FL 34746
The Steffee Homestead was originally built in 1911 by the Steffee family from Kentucky and nearby is the Caretaker's Cabin.
The park is reached by driving east on US 192 past Walmart and the Steffee Homestead entrance is just before you cross Shingle Creek.
Steffee Landing is on the other side of the river and you can reach the Homestead via a footbridge over the river.
Parking is generally easier at the Homestead site as Steffee Landing attracts a lot of kayakers and cyclists with their vehicles.
A walking trail leads through woodland and cypress swamps via a raised boardwalk to North Bass Road. There is plenty of opportunity to see many species of birds along the way including osprey, woodpeckers and cardinals.
It is hard to believe you are just minutes from the hustle and bustle of US 192.
Address: 4280 West Vine Street, Kissimmee, FL 34746
To reach Steffee Landing continue driving east on US 192 past Steffee Homestead and the entrance is just after you cross Shingle Creek.
There is a public boat ramp with easy access to the river which tends to make the small car park busier than at Homestead.
An old restored 1890 Fishing Cabin sits on the banks of the river and a footbridge over the river connects Steffee Landing to Steffee Homestead and the walking trails.
Kissimmee River Kayak LLC at the Paddling Center offer canoe, single and double kayak and stand-up paddle board rentals as well as guided tours and lessons. Prices start at $20 for the first hour for paddle boards and $30 for the first two hours for kayaks.
Next to the rental kiosk there are public restrooms and a vending machine as well as a pavilion, picnic tables, BBQ grills and a fishing pier.
Alongside the Landing is a cycle trail heading South towards Hoagland Boulevard; the first section being an elevated boardwalk.
You can also take a walking trail northwards under the US 192 with more lovely views of Shingle Creek and access to the Osceola County Welcome Center and History Museum.
Address: 4266 West Vine Street, Kissimmee, FL 34741
Paddling Center: open 7 days a week, 8 a.m. to 5 p.m. (last rental 3 p.m.)
Web: paddlingcenter.com
Tel: (407)-343-7740
Osceola County Welcome Center and History Museum
The Osceola County Welcome Center and History Museum is on the westbound carriageway of the US 192 just before Yates Road, virtually opposite Steffee Landing.
The museum contains four dioramas of different local habitats with interactive displays and scavenger hunts for the kids.
A walking trail northwards connects up with the trail from Ruba heading to the Pioneer Village.
There is a small charge for admission. It is also a useful place to visit to pick up tourist information brochures of other local attractions.
Address: 4155 W Irlo Bronson Highway, Kissimmee, FL 34746
Welcome Center: open 6 days a week, Tuesday to Sunday, 10 a.m. to 4 p.m. (closed Mondays and major holidays)
Web: osceolahistory.org
Tel: (407) 396-8644
The Ruba park is just off the US 192 past the 192 Flea Market on Yates Road and has a pavilion, restrooms, a playground and a hiking trail.
It provides beautiful views of Shingle Creek and a walking trail leads north all the way to the Pioneer Village.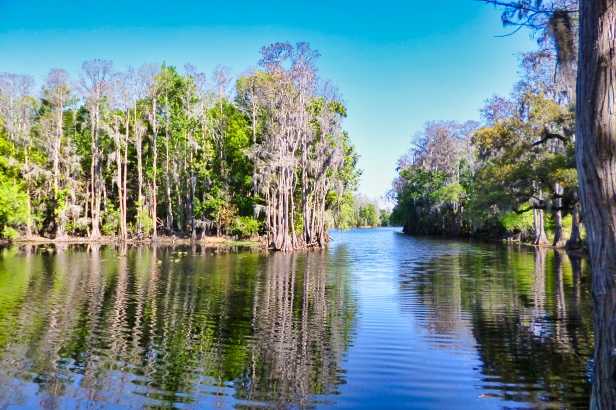 Address: Yates Road off U.S. Highway 192
Babb Road and the Pioneer Village
The Pioneer Village sits on a former Citrus grove and is a living history museum depicting life in Osceola County at the turn of the 20th Century. There is a group of around a dozen original restored "Cracker" style properties from the late 1800s and reproductions, many of which you can walk around inside. Everything from a railroad train depot to a blacksmith shop, general store, citrus packing plant, school house, church and several family homes. There is also a reproduction of a Seminole and Miccosukee Indian village.
You can really feel what life must have been like for the farmers and cattle ranchers over 100 years ago.
A short walk along a trail leads down to the Shingle Creek from where you can then walk back to Steffee Landing or Ruba.
Parking is free but there is a charge to enter the historical village site and you can either take a self-guided tour or pay for a guided tour (Mondays, other dates by appointment by calling 407-396-8644 ext 2).
Address: 2491 Babb Road, Kissimmee, FL 34746
Admission: $7 adults, $3 children 4-12
Opening times: 10 a.m. to 4 p.m., closed major holidays
Web: https://osceolahistory.org